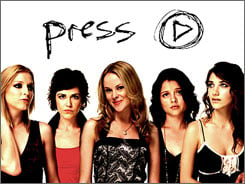 The results are in and Michael Eisner wins ... or does he? The anticipated results for the one month old
Prom Queen
Internet serial are in from Eisner led
Vuguru
. According to
Mediaweek
, the 2 minute web episodic is averaging 200,000 views per day and an aggregate of 5.2 million views since its premiere on April 2nd. Now that's pretty impressive considering that some of the
weekly
most viewed on
YouTube are 200,000
(in fact, at 200,000 it would have been 15th on YouTube's Weekly list). And for many of us, we can actually go back and watch these clips at our leisure and thus racking up more hits. Further, Prom Queen has garnered more than 18,000 friends on
MySpace
where users are treated to a sneak peak of the show. Out of the show's 5 million views, MySpace accounts for nearly 4 million, followed by Eisner's other company,
Veoh
, at about 1 million, YouTube at a quarter million and PromQueen.tv.
Given the long tail, that's a hit. Prom Queen is receiving on average 200,000 views. That's not taking into account any of the archived views or streamed mobile clips. That's an amazing number, especially one that can be sustained over (thus far, 40 episodes). I'm not going to comment about the content, although, I got into it for a while, but then my interest level dropped off (probably because I'm not a Prom Queen friend....yet). The production values are phenomenal and I almost wish there was more to watch at the end of my two minutes. Ok, so the content is great, production value is great, but the big question is this: Is it bringing any value to the sponsor, HairSpray the movie? I'm not sure, although it probably is bringing some general awareness to the movie from this tween demographic. The other question is this: Is this model easily replicated? The team that put together Prom Queen also put together a daily webisodic called
SamHas7Friends
, which while good did not receive the same number of hits as Prom Queen. But again, that, I guess was an experiment (a very successful one) that landed them the gig with Eisner which didn't have the P&A (prints and advertising) that Prom Queen has (although Prom Queen has no P&A but in web speak, they have banner ads and big time press and a big time backer). So...what's the model here?
Does this have to be something daily? What frequency?
TheBurg.tv
comes out monthly with their 15-20 minute episodes and I think they've done fairly well (
537,686
on Alexa vs
148,798
for Prom Queen). Is it the length of time? 2 minutes really does keep you on the edge of your seat... What genre works? My gut would say comedy or thriller but watch YouTube and you find all types of things. Well, I guess keep watching this space for more information as we continue to experiment in this new new world.