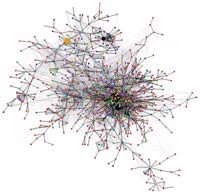 Yesterday I spoke at a
NIRI conference.
The other panelists included
Henry Blodget,
David Vinjamuri,
Paul Blalock,
and myself, Roger Wu. I think most of us believed that the blog is a great way to communicate with shareholders in terms of receiving honest and open feedback. Many IRO's in the audience were afraid of opening up the blog to detractors and "hecklers," but Paul reassured the audience by saying that commenting could be fully moderated. We went on about some of the
tools
available in the blogosphere and how blogs are becoming integrated via search and some of the popular finance portals out there. I concluded the panel by mentioning that while we focused on the text based blog, blogs can also include any type of ongoing communication which can also include audio and video.
I am still honestly surprised that there are so few corporate blogs out there. I think a big part of this still has to do with
Regulation FD
and if the SEC allows blogs to be included in FD well, I'm sure more companies will do so. Still, the blog is such a great way to get honest feedback about ideas, strategies, etc that it surprises me that not more companies do so. Sure, there are strategies and ideas that are proprietary but I think that companies can harness the collective intellect of its constituents through the blog. While some ideas would be off the wall, the company is still the one to make the final decision.
Mark Cuban
did this in his blog a while back. He offered a job to anyone that could come up with a model that would lower the
volatility and risk of feature film production and distribution. He knows that himself and his legion of minions wouldn't be able to come close to a fraction of the ideas that potentially the entire world could come up with.
Linux, Wikipedia, YouTube, MySpace, the Human Genome Project, Second Life etc were all built collectively. Further, I think that people would offer in their opinions not because they would want some kind of monetary compensation but because in this new Web 2.0 - everyone wants to be recognized.